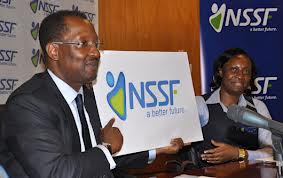 In a move meant to improve service delivery, the National Social Security Fund has today launched an e-learning system.
Speaking at the launch of the e-learning system, the Fund's Managing Director Richard Byarugaba said this will enable staff to study social security courses online.
Addressing his first news conference since he bounced back into office, Byarugaba also pledged to continue developing the fund through equipping the staff with ICT and other relevant skills.
He says the system is to save the fund 40 percent of the 500,000 million shillings in staff training costs annually