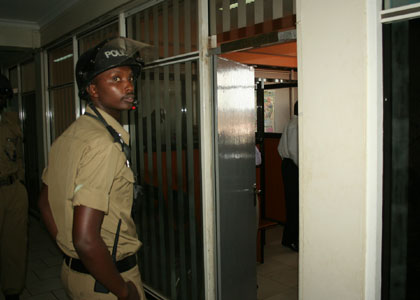 Officials from the Criminal Investigation Department Investigating the pension scam have raided a law firm in relation to the saga.
The firm called O.N Osinde and Company Advocates is located near Cairo International Bank Kampala road and is said to be defending the two suspects implicated in the pension scam
The investigators have confiscated files containing information concerning the property of the suspects under investigations
The suspects under investigations are David Oluka an accountant in the Public Service Ministry and Christopher Obei the principal accountant.
The Police says that this is part of its efforts to establish the wealth belonging to the suspects to assist in their investigations.
Officers from CID have also raided two companies suspected to be belonging to the two suspects
The companies are Continental Construction Company and Uga Fin, a money lending company located at Lamba house in Kibuli.