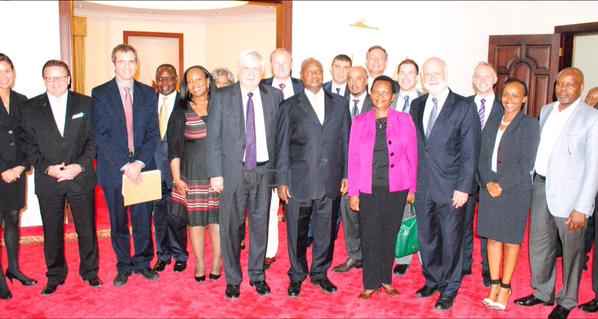 President Yoweri Museveni has encouraged US investors to venture into the agro processing sector and mineral development in Uganda.
While meeting the visiting delegation of USA Corporate Council on Africa led by its President, Steven Hayes, the president said Uganda is well endowed with mineral and favorable climate but still lacks investors.
Meanwhile the president revealed that the Uganda's biggest needs are reliable railway network and cheap electricity supply, noting that these are bound to increase production costs if they are not developed.
He explained that linking electricity in East Africa is very important for the region and revealed that D.R. Congo and Ethiopia have the biggest potential for hydro power generation in the region.
The President of the USA Corporate Council on Africa, Mr. Steven Hayes revealed that they plan to work closely with the African Union and the government of Uganda to build a middle class economy.