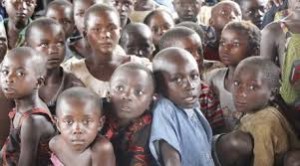 A new report by UNICEF shows that over half a million children in the country are deprived.
The report released this morning attributes this situation to seven critical issues which include nutrition, health, water, education, shelter, sanitation information and child protection.
While releasing the report UNICEF country representative Aida Grima said that northern Uganda topped with 62% children living in absolute poverty, followed by Eastern, Western and Central regions respectively.
Meanwhile the executive director of the National planning Authority Joseph Muvawala blames this deprivation mainly on malnutrition.