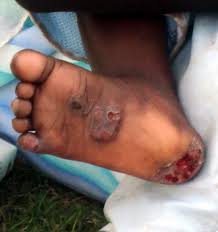 A jigger infestation has been reported in Kimaanya-Kyabakuza division of Masaka municipality, raising fear among residents and local leaders.
Over 65 households in the village have already been affected with most of the victims being children and the elderly.
The Local Council 1 Chairperson Anselm Ssengendo says a 63-year-old Stephen Kakooza has already lost his private parts, toes and three fingers to jiggers.
The division's deputy speaker, Matia Kakooza says that with the help of crime preventers, the local leaders have embarked on an operation to spray the whole village and treat the victims.