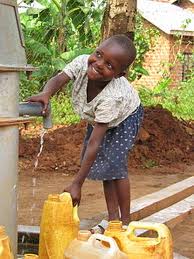 The National Water and Sewerage Cooperation has cleared the water in Kasese Municipality as safe for consumption.
This follows tests conducted on the water, which have allayed earlier fears of poisoning.
Residents in the Municipality woke up to rumors of alleged poisoning of the water at source.
The residents were forced to pour out all the water they had fetched last night as fears grew in the morning. Normal activity had also been paralyzed for hours with afew people reporting to work.
The National Water and Sewerage Cooperation branch water manager Stanley Kamugisha says the water is safe for consumption.
He has also assured the residents that the water source is well guarded and not easily accessed.
It is estimated that the crisis has affected over 120,000 people in Kasese town.
Of recent there have been tribal tensions between the Bamba and the Basongora, on which the rumors for the alleged poisoning were based.
The tensions escalated after the Rwenzururu King Omusinga Charles Wesley Mumbere was stopped from visiting his subjects in Bundibugyo.