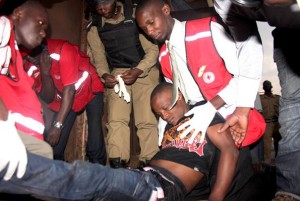 The Uganda Red Cross Society says several people have been injured during the fracas between the police and vendors following the Park yard market fire.
The Red cross spokesperson Catherine Ntabadde has confirmed that 8 people have been referred to Mulago Hospital.
She says 5 collapsed unconscious and three had deep wounds sustained on heads after being hit by stones
Five others have been given first aid services, 4 of them with minor wounds and one is being treated for shock.
She says they have an ambulance deployed that is providing evacuation services, adding that the Red cross teams are still on the ground as they continue to assist the injured people.