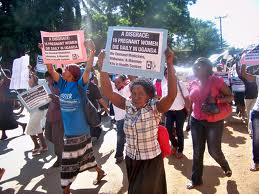 The Police remain heavily deployed at YUASA car bond where members of civil society held a demonstration this morning.
Led by Action AID and FIDA, activists carrying placards demanded that the management of YUASA produces the Asian suspects accused of gang rape so they can be brought to justice.
The group also came along with a letter to the director but could not hand it to him because he was not in office.
The group was however repulsed by police led by the Jinja road DPC Wesley Nganizi.
Nganizi says they will continue to deploy at the car bond because they have not received any communication from the activists about their plans to demonstrate.
This all stems from a case involving a 23 year- old woman who was allegedly gang raped by four  Pakistani and Indian nationals.
Two of the accused are still on run.