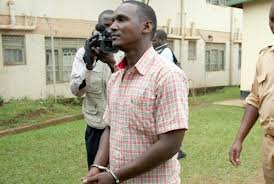 Adam Kalungi has been denied bail.
Kalungi, is a key suspect in the murder of the former Butaleja Woman MP Cerinah Nebanda.
The Makindye Court chief Magistrate Esther Nambayo denied him bail on grounds that there is a possibility of him absconding.
She had granted him bail earlier in February but his release was failed by the fact that his sureties failed to present land titles, registered in their names.
The Magistrate says she has since received information from the Kenyan minister in charge of immigration confirming that Kalungi entered the country and stayed in Nairobi illegally.
His worship Nambayo says this information justifies fears by the prosecution that he could abscond from the trial.
Meanwhile, the 4th witness, 65 year old Grace Kigenyi, exonerated Kalungi.
He told Court that he had never seen Kalungi take drugs.
He however said that on 14th December 2012 Kalungi told him that he left his girlfriend Nebanda at home, but on going back to his home at 3pm, found her unconscious and found a bottle of wine cocaine and heroin on the table.
Kigenyi further told court that Kalungi ran away because he feared   to be arrested for a crime he did not commit.
The trial continues till the 14th April.