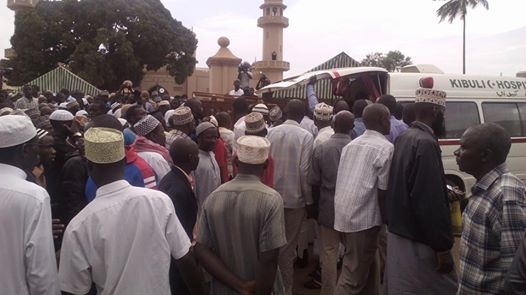 The police chief has blamed the killing of Muslim Clerics on the Allied Democratic Forces.
The Inspector General of Police Gen Kale Kayihura was speaking during prayers for the late Sheikh Mustafa Bahiga at Kibuli mosque on Monday afternoon.
The 54-year old cleric was gunned down by unidentified assailants on Sunday night while on his way to the mosque along Entebbe Road.
This happened just days after the Shia Muslim leader sheikh Abdullakadri Muwaya was gun down in Mayuge district.
"Investigations into the previous killings show a similar pattern", said Gen Kayihura.
He however said they are yet to identify the individuals used in these killings.
Earlier Gen.Kayihura apologized to the Muslims over the unexplained murder of clerics, admitting failure by his force to protect the lives and property of Ugandans.
The late Mahiga is to be laid to rest today at Nkowe along Hoima road.
Also speaking at the prayers, the head of the Dawa Muslim tabliqs in Uganda, Umar Ndawula said the killings would not derail them from their religion.
Meanwhile, calls for release of reports into the killing of various Muslim clerics have been renewed.
Speaking to KFM, Kyadondo East Member of Parliament(MP) Ibrahim Ssemujju Nganda has expressed concern that of all the various murders like that of Sheik Sentamu, and Hajji Kigejogejo, no one has been arrested and no report has been released.
He blames the deaths on government's failure in its responsibility to provide security to its people and property.
The police have promised to investigate these cases to their logical conclusion.
Addressing the media today, the police spokesperson Fred Enanga said that no arrests had been made so far, but they were still speaking to Bahiga's family members and close friends.
He says they were focusing their investigations on family wrangles, business disputes and possible religious misunderstandings especially among the Tabliq sect at the Nakasero mosque.
Meanwhile, 15 suspects have been arrested in Mayuge districts in connection to the Christmas day murder of Shia Muslim leader Shiek Abdukadir Muwaya.