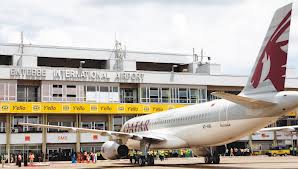 In a move meant to counter terror threats, aviation police has intensified checking of all passengers entering Uganda.
The move followed the renewed terror threat, and subsequent arrest of 19 terror suspects.
Rudovich Awitta the commander aviation police tells KFM that they are taking all threats seriously.
Meanwhile, the UPDF has taken over the control of the eastern border security amid growing terror threats.
The move comes after the US embassy warned its citizens in Uganda of a planned terror attack by the Al- shabab militants.
The UPDF Third Division Spokesperson Capt Jimmy Denis Omala says they have established a full battalion to monitor the border line from Amudat to Lale district in Kenya.
Omala also says together with police they have secured the Busia and Malaba border by establishing detaches and having joint foot patrols.