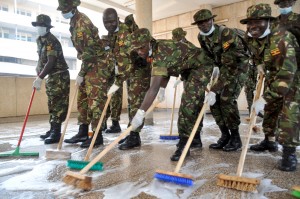 It is excitement at Kisekka market where military police officers are carrying out a cleaning exercise
This is part of the celebrations to mark Terehesita day that is celebrated every 6th of February each year.
The day is marked to remember the first attack on Kabamba barracks by the then NRA rebels.
In Entebbe, the soldiers attached to the Special Forces Command have cleaned up the central market and will later proceed to Entebbe hospital.