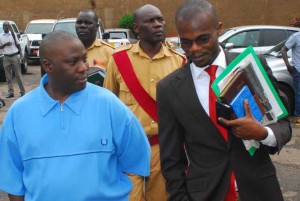 The Anti- Corruption Court has adjourned hearing of the embezzlement cases against Geoffrey Kazinda.
The adjournment follows the allocation of the case to another magistrate.
Previously it was before Irene Akankwasa who was recently promoted to Deputy Registrar.
It will now be heard by a new Chief Magistrate Sarah Langa, who has adjourned it to 12th March.
The jailed former Principal Accountant in the Office of the Prime Minister and three others are charged with 29 counts of embezzlement, forgery, causing financial loss of over 316 million shillings.
His co-accused include John Owori Martin, Commissioner for relief and disaster preparedness in the Prime Minister's office, Kezzabu Beatrice, assistant commissioner for resettlement and Hussein Katumwa, a Manager at Total Petrol station Ntinda.
Kazinda is already serving a 5-year sentence at Luzira prison after court found him guilty of forging the signature of his former boss Pius Bigirimana.