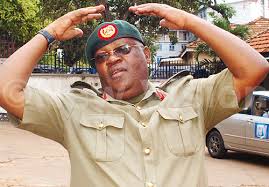 Col. Shabban Bantariza's woes seem to have just begun.
The General Court Martial has slapped the embattled former army spokesperson with fresh charges.
The new charges include that of conduct prejudicial to good order, ill treatment of a subordinate, alongside the other fraud charges.
Prosecution led by Capt Fredric Kangwamu alleges that while at the Leadership Institute Kyankwanzi between March and April 2010 Bantariza subjected Warrant officer Henry Ssensoga to ill treatment by hurling insults at him.
He is further alleged to have diverted 500 liters of fuel meant for the institute's activities to his home in Kireka, a Kampala suburb.
Meanwhile the Court Martial Chairman Moses Ddiba Ssentongo has today sworn in Maj Raphael Mugisha as a new judge advocate to advise on legal matters.
Mugisha replaces Maj Augustine Bwegyendaho who was appointed director Special Investigations branch attached to the Land Forces in Bombo.
The case has been adjourned to October 24th for hearing.