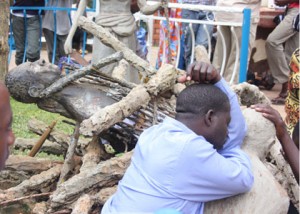 Hundreds of Christians continue to throng the Martyrs' shrines in Namugongo ahead of the Uganda Martyrs' Day celebrations.
The day is marked every 3rd of June in remembrance of the 22 Catholic and protestant Christians who were killed for their faith by Kabaka Mwanga.
This number has been growing over the years, with at least a million believers said to have witnessed the celebrations last year.
The Namugongo site is also treasured as one of Uganda's most significant and  must visit areas.
Meanwhile, beatification mass was today held for former Tanzanian President Julius Nyerere.
Speaking during the mass, Vice President Edward Ssekandi challenged Christians to emulate the deceased leader's exemplary conduct.
Ssekandi said Nyerere preached unity and love during his life which Ugandans should adapt.
He added that increased acts of corruption, human sacrifice and hatred all need God's intervention.