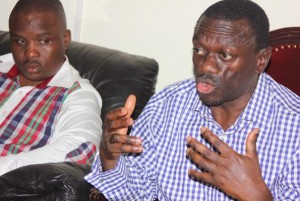 Tolerance and inclusiveness is needed for good governance in Uganda.
This is according to Prof Michelo Hansungule from South Africa, following the arrest of former FDC leader Dr Kiiza Besigye and city lord mayor Erias Lukwago yesterday.
Michelo a professor of human rights law expressed shock at the events he never expected such from Uganda.
He asks those in leadership to ensure they give space for political participation by exercising tolerance.
Earlier, however, the police Chief Gen. Kale Kayihura vowed to deal with the members of the opposition decisively as long as they continue defying the Public Order Management Act.
Addressing journalists, Gen.Kayihura said opposition leaders are not above the law.
The Police were by this evening still holding the former FDC leader and lord mayor who were arrested yesterday.
Currently, Kiiza Besigye is being held at Jinja road police station, while Erias Lukwago is still held at Kiira road police station.
The FDC party president general Mugisha Muntu who visited Besigye this evening condemned the detention of his colleagues with no charges for two days.
The police say the duo was arrested following information that they had planned to hold illegal rallies in the city center which would have disrupted business and security.