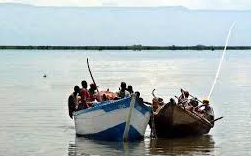 The death toll has risen further.
The death toll from Saturday's boat accident on Lake Albert has risen to 107.
This follows a day long search on Lake Albert were the accident occurred.
The police Commandant Marine James Pola says there is now little hope of finding any survivors.
He says the search and retrieval operation is expected to be concluded in the near future.
Pola adds that most of the bodies recovered so far are those of children.
The accident occurred on Saturday, when a
boat carrying over 200Congolese refugees from Hoima capsized at Ndaiga on its way to Ntoroko district.