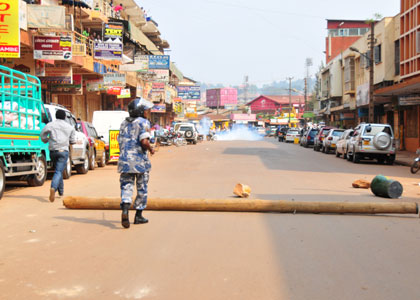 The police have engaged in running battles with protesters this afternoon at Kisseka market.
The protesters, most of them market vendors were demonstrating against the arrest of Kampala Lord Mayor, Erias Lukwago.
They were demanding that Lukwago be released unconditionally. Lukwago was arrested at the old taxi park this afternoon where he had gone to assess the situation, following an operation by Kampala Capital City Authority to collect the Sh120,000 monthly levy from the taxi operators.
Lukwago is currently being held at the Central Police Station. According James Ruhweza, the Kampala commander, Lukwago is to be charged with inciting violence and taking part in an unlawful assembly.
Meanwhile one person has been arrested and taken to CPS in connection with the violence that erupted during the demonstration.
He is said to have led the group that attacked vehicles with government registration numbers, pelting stones randomly.
Calm has however been restored, though heavy police deployment remains.