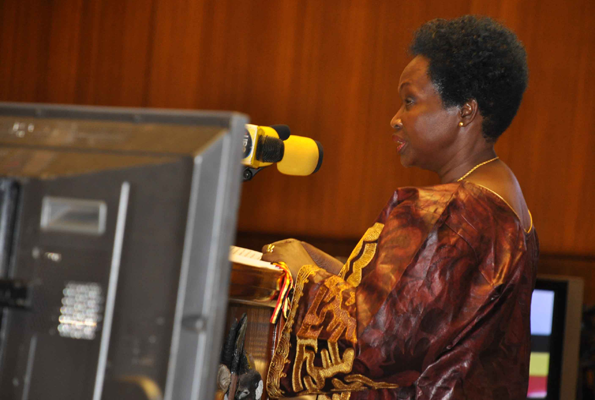 Finance minister Maria Kiwanuka has crashed criticism against the new financial year's budget noting that it is not tax heavy as portrayed by a section of the public.
The budget presented last week has largely been described by some Members of Parliament as anti poor people.
They argue that taxes on areas like water, mobile money, fuel and motor third party are oppressive to the poor.
The private sector too has expressed dissatisfaction over some taxes which they say will only serve to stifle growth of the insurance and telecom sectors. However, Kiwanuka says the new proposed taxes will contribute a small percentage of only 3 to the budget.
Addressing a press conference today, Kiwanuka said the remaining percent is expected to be collected from already existing taxes to enable government to fund 81% of the budget  using local revenue.
Meanwhile, Questions have been raised on the whereabouts of the Shs1bn meant for the operations of the judiciary.
Yesterday, the judiciary suspended the hearing of some cases citing delayed release of monthly operational funds by the Finance Ministry.
However, the Ministry of Finance has today dismissed the reports confirming that the whole amount was released earlier, creating suspicion on the where abouts of the funds.
The Deputy Secretary to the Treasury Keith Muhakanizi explained that an additional 25 billion shillings has been allocated to the Judiciary in the upcoming financial year.