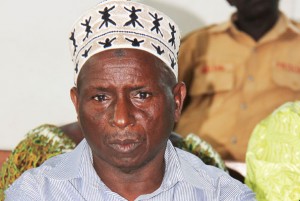 The Court of Appeal has upheld a 14 year jail term for Captain Ramathan Magara.
The five Court of Appeal judges led by Opio Aweri say that the sentence is not harsh considering the two people he is confirmed to have shot dead at Bulange Mengo.
The judges also say that it was confirmed that Magara fired 16 times and the cartridges found at the scene matched with his gun.
Magara was contesting the jail term granted to him asking that it be reduced to 7 years.
The judges also said that each murder offence that he committed attracted 7 years which is fair enough.
Magara killed Vincent Kavuma and Gideon Makabaye during the 2006 campaigns when Dr. Kiiza Besigye visited the Buganda Kingdom offices at Bulange Mengo.