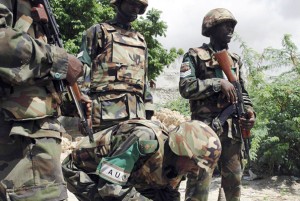 More support is needed for Ugandan troops in Central African Republic to counter the Lord's Resistance Army rebels.
The Secretary General of the Acholi Religious Peace Initiative, Retired Bishop Baker Ochola says protection of civilians remains a big challenge given the increased attacks in Central African Republic and the Democratic Republic of Congo.
Ochola is however optimistic that if troops in the LRA infested areas are given more military support, more civilians' lives will be saved.
He was speaking in Gulu district at the reception of a group of 85 former LRA abductees, comprising Ugandan women, children and men who escaped from LRA captivity since the beginning of this year.
They have been receiving rehabilitation services with support from Invisible Children and World Vision.
In May 2010, President Obama signed into law the Lord's Resistance Army Disarmament and Northern Uganda Recovery Act.
The U.S strategy aims to assist the governments of Uganda, Central African Republic, Democratic Republic of the Congo, and South Sudan, as well as the African Union and United Nations to mitigate and end the threat posed to civilians and regional stability by the LRA.