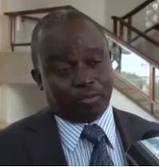 Members of Parliament on the Legal and Parliamentary Affairs committee have thrown out officials from the Directorate of Public Prosecution over absence of a substantive DPP.
Former DPP, Richard Butera was appointed judge at the Court of Appeal, leaving the post vacant.
The officials, led by the Deputy DPP, Amos Ngolobe had appeared before the committee to discuss the institution's budget allocations and policies however committee chairman, Stephen Tashobya said it was unconstitutional for the deputy DPP to discuss the matters without instruments of power.
Other MPs like Stephen Baka, Crispus Ayena, Kabakumba Masiko and Fox Odoi demanded that the team goes back until the President appoints a new DPP.
Ngolobe says the absence of a substantive DPP has affected the smooth running of the directorate, since only the DPP can sanction corruption and terrorism cases. The committee has asked them to appear next week on Wednesday, together with the line minister, Kahinda Otafiire.