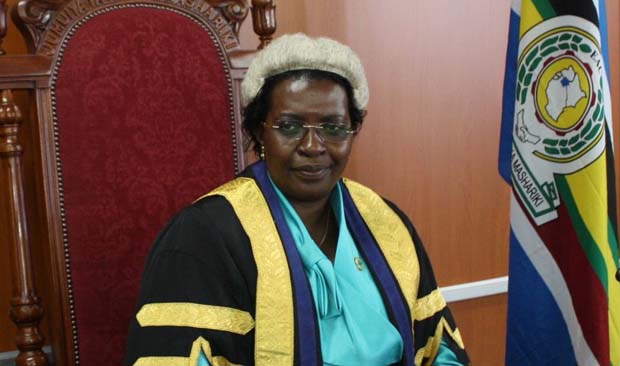 Members of the East African Legislative Assembly (EALA) have been advised to provide the leadership that aims at maintaining its focus.
This comes a day after the assembly resolved to suspend Margret Zziwa from exercising the functions of Office of the Speaker pending the finalization of the investigations into the Motion for her removal.
Zziwa was replaced by Uganda People's Congress (UPC's) Chris Opoka who will be interim speaker for 21 days as investigations into her conduct continue.
Former EALA Representative Irene Ovungi says members should consider the resources that member countries are spending on the assembly before fronting their personal interests.
Ovungi says East Africans are only interested in debates that are directed towards development and promotion of regional integration.
Meanwhile, some of Uganda's representatives at the regional parliament are calling for the president's intervention in restoring sanity at the assembly.
One such member is Fred Mukasa Mbidde who says the time is now for the president to bring the NRM house to order and end the confusion at the regional parliament.
"Iam tired of fighting this battle alone. I have single handedly struggled to keep the speaker in office for the last one year with no help from our home government", Mbidde told KFM in a phone interview.
He adds, "I have been betrayed by the president of Uganda. Before Zziwa's suspension, my colleagues from Tanzania intimated to me that they were tired of fighting for a country whose president does not indicate whether he is against or in support of the censure motion".
Zziwa's stay at the helm of affairs at the regional parliament has largely been dominated by controversy as a group of NRM members led by her former opponent, Dorah Byamukama accuse her of abuse of office and incompetence.
She has however often denied these claims, describing them as simply diversionary.
Early this month, the opposition Forum for Democratic Change (FDC) attacked the NRM, blaming it for the current confusion at the regional assembly.
The FDC spokesperson John Kikonyogo told a news conference earlier that Uganda's representation at the East African Legislative Assembly was bound to end up in disarray.
Kikonyongo said the confusion exhibited in the election of Uganda's representatives in 2011 could not spare the operations of the assembly.