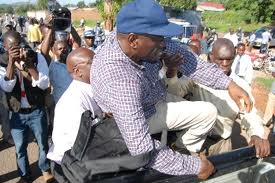 Court has issued criminal summons against former FDC leader Dr. Kiiza Besigye.
This is after he failed to appear before Buganda Road Court on charges of inciting violence.
Prosecution alleges that on the 20th of June 2013, Besigye and 14 others in various part of the country made statements meant to incite violence.
Prosecution led by Deborah Itwau asked that summons be issued despite reports by the defense lawyer, Ernest Kalibbala that the accused was out of the country.
Buganda Road Court Grade One magistrate, Araali Muhirwe has now ordered Besigye to appear before court on the 28th of October.