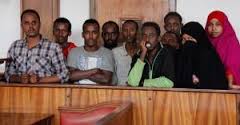 Four suspected terrorists have been arrested in Kasese.
It was panic and confusion in Kasese town this afternoon as police sealed off Kasese –Fort Portal high way at Nyakasanga Bridge to intercept suspected terrorists.
Business in Kasese town came to a standstill for almost two hours from 10am.
The Rwenzori region police spokesperson, Bakali Bashir Muga has confirmed the arrest of four people.
He said the suspects were heading to Democratic Republic of Congo but declined to reveal any further details.
He says they are to be transferred to Kampala for further interrogation.
The arrests come at a time when the country is on high alert amid renewed terror threats from the Al Shabaab militant group.
Meanwhile, the police joint operation team is still screening the 12 people arrested this week in connection with the murder of former State Prosecutor Joan Kagezi.
Six people–including two women and four men–were arrested in Kyengera, while the rest were picked up from Kiwatule and Zzana.
Speaking to KFM, the deputy police spokesperson Polly Namaye said the team is still studying their profile and any possible links to the murder.
She explains that they have got some relevant clews that will help them apprehend other accomplices.
Story by Samuel Sebuliba