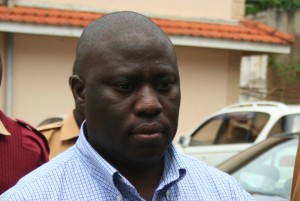 The woes of the Geoffrey Kazinda are far from over.
Following the re-opening of the Anti-Corruption Court last month, the former principle accountant in the Office of the Prime Minister is now expected to battle with his pending cases.
The Anti-Corruption Court Deputy Registrar Fred Waninda has today issued a production Warrant, ordering Luzira prison authorities to produce Kazinda before Court on January 8th for hearing of his embezzlement case.
Kazinda and three others are charged with 29 counts of embezzlement, forgery, causing financial loss and false accounting.
His co-accused are John Owori Martin, the Commissioner for Relief and Disaster Preparedness in the Prime Minister's office, Beatrice Kezabu, the Assistant Commissioner for Resettlement and Hussein Katumwa, a Manager at Total Petrol fuel station in Ntinda, Kampala.
They are alleged to have caused the government loss of over 316 million shillings.
Kazinda is already at Luzira prison serving a 5 year sentence after court found him guilty of forging a signature of his former boss Pius Bigirimana.
In a separate development, the Anti-Corruption Court has issued fresh summons for nine Pension scam suspects.
The suspects include Jimmy Rwamafa, the former Permanent Secretary in the Ministry of Public Service, Kiwanuka Kunsa, the director research and development, Christopher Obeyi and David Oloka among others.
They are all charged with abuse of office, causing financial loss, embezzlement and conspiracy to defraud.
Prosecution alleges that they embezzled 165billion shillings and that Obeyi and Oluka embezzled over 173m shillings separately.
They have now been ordered to appear before Anti-Corruption court grade one magistrate Sarah Langa on January 8th 2014.