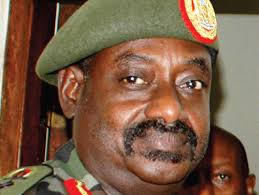 Renegade UPDF General David Sejjusa is back in the country.
Sejjusa jetted in at 3:00am aboard a British Airways flight and was received by Director General Internal Security Organisation Brig. Ronnie Balya, his lawyer and his sister.
According to his lawyer, Ladislus Rwakafuzi, Sejjusa was then given a lead car from Entebbe International Airport to his home in Sembabule.
There had been reports of government threatening to have him arrested if he returned to the country from the UK where he has been since May last year.
A member of the army high command, Sejjusa escaped from Uganda in 2013 after he wrote a letter calling for investigation into an alleged plot to eliminate senior army and gov't officials opposed to a so called project to get president Museveni's son succeed him.
Two newspapers and radio stations including the Daily monitor and KFM and its sister station Dembe FM were closed for nearly 10 days as security officials tried to find the letter.
He had a falling out with President Yoweri Museveni and formed the Freedom and Unity Front in exile in the United Kingdom following being charged for plotting a coup.
His return was widely expected to cause a storm, but Lwakafuzi says the absence of the police at Entebbe airport when he arrived is proof enough that he safe, atleast  for now.
Some sections of the legal fraternity have claimed that Gen Sejjusa has struck a deal with government not to be prosecuted upon return, a claim his spokesperson Moses Bigirwa has vehemently refuted.
Through his lawyer Ladislus Rwakafuzi, Tinyefunza says president Museveni knew of return but the police chief Gen Kale Kayihura did not.
Sejjusa's surprise return has been received with a lot of skepticism. Some have simply welcomed him home, while others are questioning government's motive.
In a tweet, former Forum for Democratic Change leader Dr. Kiiza Besigye was among the first people to welcome Sejjusa back home.
While political analyst Julius Lebo thinks this is a political gimmick by president Museveni to try and reduce the number of his enemies as the 2016 general elections fast approach.
On June 17th 2013, while in London Sejjusa told BBC's Focus on Africa why he was unhappy with the Museveni government.
Soon after landing at Entebbe International Airport today, Gen Sejjusa dressed in a suit said he wanted to be officially retired from the army.
This was a reflection of what he said earlier about his futile efforts to leave the system.
He told the BBC's Focus on Africa on June 17th 2013 that being in the UPDF or serving under the National Resistance Movement regime was like being held captive in a virtual prison.
A Ugandan lawyer, military officer and politician, Sejjusa was the coordinator of intelligence services and a senior presidential adviser to the President.
He was also a member of High Command UPDF, the UPDF defence council and a member of parliament representing the Uganda People's Defence Force.
His return however, brings forth a political puzzle with many questions unanswered.
It is still not clear what his next step will be, but according to political analysts Sejjusa's return is likely to have a significant impact on the road to 2016.
He is expected to address a news conference in Sembabule tomorrow and KFM will keep you abreast with all the latest developments on this story.