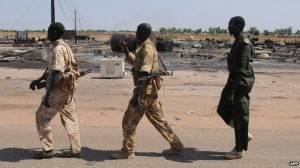 Hundreds of people have been killed in an ethnic Massacre in South Sudan.
This happened as South Sudan rebels seized the oil hub of Bentiu last week.
According to a statement from the UN mission in South Sudan, the victims were targeted at a mosque, a church and a hospital.
It added that hate speech was broadcast on local radio stations, saying certain groups should leave the town and urging men to rape women.
President Salva Kiir is a member of the country's largest group, the Dinka and the Nuer community is seen as supporters of rebel leader Riek Machar.
Fighting broke out in December 2013 after Mr Kiir accused Mr Machar of plotting to stage a coup, a charge he denied.