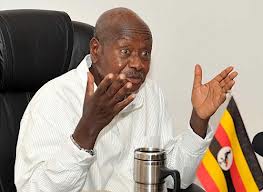 The president has written to the Speaker of Parliament seeking approval of Justice Benjamin Odoki as Chief Justice on a 2 year contract.
According to the letter dated 9th August 2013 the President Museveni based Odoki's reappointment on Article 142 (1), 143 and 253 of the constitution.
Odoki's term in the office expired early this year after he clocked 70 years which is the recommended age for retirement of civil servants.
Relatedly, the parliamentary appointments committee chaired by speaker Rebecca Kadaga has approved Mike Chibita as the Director of Public Prosecutions.
President Museveni on July 28th forwarded Chibita's name for
consideration and approval by parliament.
According to a source sitting on appointments committee, members unanimously voted for his approval due to his character, integrity and experience.
Chibita has been the deputy of head of the land division since July 2013.
He is also a member of the Advocates International Global Council, member Advocates Africa, Associate member Christian Legal Society USA and member Alliance Defending Freedom.