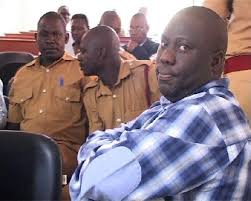 High Court judge Yasin Nyanzi has set May 27th to start hearing a case in which Kazinda's mother is seeking a recovery of her properties.
Teopista Nanfuka the mother to the jailed principal accountant in prime minister's office wants court to issue a permanent injunction stopping the government from interfering with her property and opening of her buildings that were sealed off by Kiira Road and Kibuli police.
Among the seized property is; Kazinda's late father Aloysius Lwokya's Will, motor vehicles, laptops and several loan documents that Nanfuka claims are so crucial to enable her access money.
However the Attorney General in his defense says none of the seized property can be released to Kazinda's mother as they still a subject of investigation on suspicions that they were acquired using public funds.