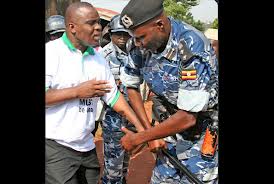 More tear gas has been fired at Bakuli to disperse crowds that were forming near Erias Lukwago's vehicle.
Lukwago was being escorted to Metropole Hotel where he is expected to appear before the KCCA tribunal.
This is after Lukwago and the police failed to agree on the route to take to his destination.
He had earlier been blocked by the police at his home in Wakaliga after the police allegedly received reports that Lukwago was planning to hold a rally at Kisekka market.
He was however later allowed to leave his home in the company of the police.
The police dragged him from vehicle and delivered him at Metropole Hotel aboard a police vehicle. Lukwago however fainted shortly after being delivered at the hotel.
The head of the tribunal Justice Catherine Bamugemereire has adjourned the tribunal to allow the Lord Mayor time to recover.
Meanwhile, At Acacia Avenue and areas around Metropole Hotel heavy police deployment remains.