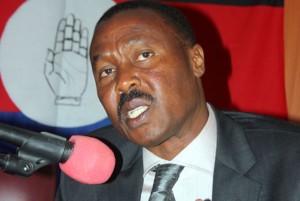 More opposition political parties are threatening to crack the whip on their members who voted for the impeachment of the city lord mayor.
Following the eviction of the lord mayor from his city hall office by the KCCA councilors, opposition leaders have decided to take action against their members.
The Forum for Democratic Change party president Maj. Gen Mugisha Muntu says the National Executive Committee is set to sit today, to determine possible punishment.
This is after the opposition parties resolved yesterday to work towards re- instatement of the lord mayor. The development in the FDC comes just a day after the Democratic Party also decided to take punitive action against its members who defied party resolutions on KCCA matters.