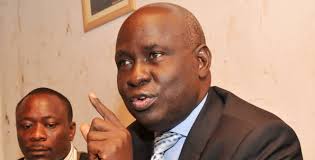 The debate on whether some opposition MPs received money from the NRM to clear their debts rages on.
The Leader of Opposition in Parliament, Wafula Oguttu last week claimed that 18 MPs from the opposition received 110 million each, a claim the NRM has denied and asked for evidence.
Now some legislators, among them Ajuri County MP, Denis Hamson Obua says Oguttu has discredited the institution of Parliament and should be tasked to explain.
However, Oguttu says he will do so at the appropriate time and that no amount of pressure will make him reveal the names.
Meanwhile
UPC Vice President Joseph Bbosa says the opposition is slowly losing credibility due to the selfishness of its members who all the time depend on handouts from government.
Bbosa says the battle against corrupt opposition MPs should not be left to Oguttu who is now facing attacks from several MPs.