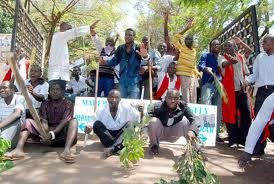 Students of Makerere University have been granted bail.
The group of 19 including Makerere LC 5 councilor Benard Luyiga was remanded to Luzira prison on Wednesday last week over charges of taking part in an unlawful society.
They have appeared before the Grade One Magistrate at the Law Development Centre Court Esther Nansambu who has released them on a cash bail of Shs.100,000.
Their sureties who included their parents and fellow students have been ordered to sign non cash bonds of Shs.10 million each.
The two groups of 11 and 8 have been ordered to return to court on March 26th and 28th respectively and are advised to avoid involvement in chaotic activities during trial.
The students are alleged to have committed the offence during last week's demonstration at the university.
They staged the demonstration over the 60% fees payment policy which requires that 60% of their tuition be paid within the first six weeks of the semester.