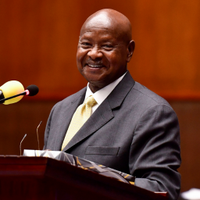 By Benjamin Jumbe
President Museveni has confirmed that former professional boxer Zebra Ssenyange was killed by security operatives
This was during his end of year national address delivered last evening
The President who apologized for the incident said Ssenyange was doing a good job to transform the lives of the ghetto youth and also mobilise for the NRM party Kawempe division.
He said much as he did not know Zebra, he was told that he was supposed to meet him.
Museveni added that on that fateful night, security personnel had gone to pick Ssenyange for questioning over allegations that some of the youth he was training as boxers were to be used by the opposition groups to cause havoc in the city.
He has however promised to investigate circumstances behind Ssenyange's killing further blaming this incident on what he called reckless efforts of the opposition to intimidate citizens.