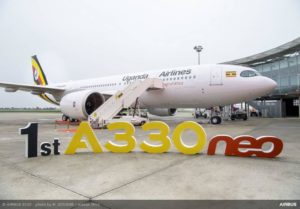 By Ritah Kemigisa
President Museveni is this morning expected to receive the first newly bought Airbus A330 neo that will officially touch down at Entebbe International Airport at 11 am.
According to the Uganda Airlines commercial director, Roger Wamara, only a few invited guests who must present negative covid-19 certificates will be allowed at the airport to receive the new bird.
Wamara says Ugandan pilots led by Captain Michael Etiang are fully in charge of the inaugural flight of the Airbus from France.
The Airlines Chief Executive Officer, Cornwell Muleya, says the coming of the new Airbus highly contributes to the growth of the airline.
The newly acquired Airbus jets, with the second expected to arrive in January 2021, will fly international routes, to Dubai – Abu Dhabi, London – UK, Guangzhou – China, Mumbai – India, and some routes in southern and West Africa.
The Airlines currently operates shorter routes to Bujumbura, Nairobi, Dar es Salaam, Kilimanjaro, Juba (South Sudan), Mogadishu (Somalia), and the latest Kinshasa.