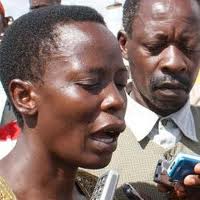 The police are heavily deployed in Mukono as celebrations for the International Youth day get underway.
This is after a group of residents of Mukono municipality threatened to demonstrate over the death of two youth who were allegedly gunned down last week.
The area Member of Parliament Betty Nambooze says they will line up along the road to show their discontent as the president proceeds to the venue of the main celebrations in Mukono North.
However, the police spokesman for Kampala South Musa Nabende says this will not be allowed, vowing to arrest whoever takes part in the planned demonstration.
Earlier, a group of youth under the Uganda Youth Network vowed to boycott the national youth day celebrations.
Led by the network's executive director Emmanuel Kitamirike, the group is protesting the delayed passing of the National Youth Enterprise Act.
Kitamirike says that in the absence of a clear policy, even the funds that were ear marked yesterday will not benefit the youth.
The national youth day celebrations are being held at Kiyunga in Mukono district.