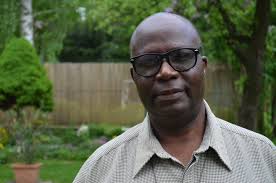 Hundreds of mourners have today congregated at All Saints Cathedral in Nakasero to pray for the body of Rev Dr Solomon Nkesiga who passed away on Tuesday after battling cancer of the liver.
Rev. Nkesiga was the Acting Vice Chancellor of Bishop Stuart University Mbarara and husband to Rev Diana Barlow Nkesiga, vicar at All Saints.
He was eulogised as an innovative man who was passionate about education and had immense love for his family, friends and colleagues.
President Museveni, in a speech read by Security Minister Mary Okurut, described Nkesiga as a man who lived a corrupt free life which everyone should strive to emulate.
Bishop Zac Nirigiye, in his sermon urged Christians to emulate Nkesiga's life by trying to live a life that adds value to others and to be a blessing in the lives of other people.
The deceased's wife, Rev Diana eulogised her husband as a man that loved his family and was passionate about theology and sharing the word of God.
Singing Laba Ekittibwa before she spoke, Rev Diana emotionally thanked God for the time she had shared with her husband. Humoring the congregation with stories on how she had met a young intelligent Mukiga man that she had fallen in love with and shared a marriage of 25 years.
She said her husband was a man of great intelligence, well-spoken and promoter of the value of women.
"Solomon valued women and that is why I am the woman I am today," she said. "He was so confident in himself and that is what enabled me to become who that I am today."
She added that her husband was a man who was not afraid of death nor was he afraid of life.
The children of the deceased remembered their father as a kind man, an avid sportsman who always guided and instilled knowledge and life values in them.
In a moving speech Ingnatius Nkesiga, the oldest son of the couple said that his father has been a loving patient, present, man who had always walked in the light of God.
"These last few days when I was praying, I would always ask God why, but my father was a man that was always prepared and had written a memoir.
During these last months of sickness, Nkesiga wrote an autobiography and a memoir he had titled Reflections of a Dying Man, a fact that Ignatius says always angered them because they did not want to think that they would lose their father. He thanked his father for this, saying that he would live on through his writing.
Nkesiga's body will be laid to rest at his home in Budo on Friday.