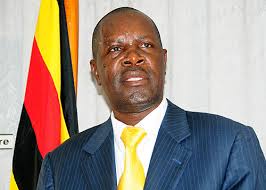 Government will not yield to demands by the opposition to have the Electoral Commission disbanded.
The government spokesperson Ofwono Opondo says a decision to dissolve a commission whose existence is constitutional cannot be made basing on mere allegations.
Opondo says government will not be forced to initiate reforms to an independent Electoral Commission that has impartially done its work in the last two elections.
Opondo's remarks come as pressure mounts from political parties and civil society for a number of electoral reforms to be effected including reconstitution of the current Electoral Commission
Meanwhile, the electoral commission has today started display of the voter register in Buhweju district.
The exercise will run upto the 14th of October.
Speaking to Kfm the Electoral Commission spokesperson Jotham Taremwa has asked voters in the district to ensure they check out their names to avoid disappointment and inconveniences.
Fresh polls for the Buhweju district woman parliamentary seat are set for October 31st.
The seat fell vacant following the death of the Joy Arinaitwe Kariisa last month.