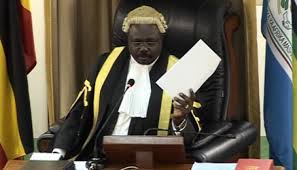 In a case of the hunter becoming the hunted, the Leader of the Opposition is asking the Deputy Speaker of Parliament to apologize.
Days after Jacob Oulanya threw out Kyadondo East MP Semuju Nganda for refusing to apologize for alleged misconduct, opposition MPs now want him to apologize before the house.
Addressing a news conference at parliament, Nandala Mafabi said they had renewed their demands for a motion on Oulanya's conduct to be put on the order paper on Tuesday next week.
The opposition also wants the presence of non-parliamentary staff in the chambers investigated.
Members of the opposition in parliament have now turned their anger to the Vice President.
The MPs are questioning the involvement of Edward Sekandi's bodyguard in throwing out of one of their colleagues this week.
The leader of opposition in parliament Nandala Mafabi claims the VP's body guard entered the chamber with a pistol which is against the rules.
Nandala now says the Vice President must explain how this could happen.
However when we contacted the minister for presidency Frank Tumwebaze has rubbished the claims saying he is not in charge of the security at parliament.
Relatedly, more opposition members of parliament have come out to criticize the conduct of the deputy speaker.
This stems from Wednesdays incident in which he ordered that Kyadondo East MP Ibrahim Ssemuju Nganda be thrown out of parliament after he refused to apologize.
Addressing journalists at parliament Mps including Cryspus Ayena, Betty Aol, Winnie Kiiza and Odonga Otto said the incident was a violation of the rules of procedure.
They demand that MPs are given the respect they deserve.
The deputy speaker yesterday stood by his decision and insisted that none of the four he earlier suspended will be allowed to enter parliament without apologizing.