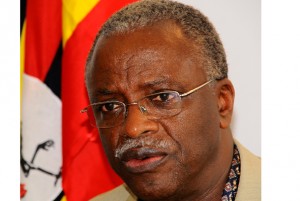 The National Resistance Movement (NRM) Central Executive Committee convenes today at State House, Entebbe.
The committee, whose role is, among other things, to ensure that all party organs function properly, meets to discuss party matters.
NRM Secretary General, Amama Mbabazi says the meeting will discuss the current party leadership composition in Parliament.
Reports however indicate that the committee is expected to discuss the internal strife affecting the party, with Mbabazi on the spot over alleged interest in the presidency.
His wife, who doubles as NRM Women league chairperson, Jackline Mbabazi is also under fire for allegedly mobilizing support for him.
In a separate development,
Prime Minister, Amama Mbabazi has revealed that investigations into the actions of a group of youths linked to him are ongoing.
Last week, some youths, among them Adam Luzindana, William Seriyinda and Omodo-Omodo, were arrested for allegedly soliciting signatures from NRM members pushing to hold delegates' conference to endorse Mbabazi as flag bearer without approval from the party structures.
Mbabazi was recently on the spot in the NRM caucus over allegations that he was quietly plotting to challenge President Museveni in 2016; which allegations he has since refuted.
Mbabazi says though he is aware of the developments, he is working with the Police to establish the intentions of the youth.
In a related development, Ugandans have been asked to closely follow the current bickering in the ruling NRM party.
The leader of opposition in parliament Wafula Oguttu says the internal misunderstandings in NRM are likely to affect other sectors of the country since the party controls Uganda's resources.
Oguttu has reminded Ugandans of the bickering between Muteesa II and Obote which resulted into chaos in the country.