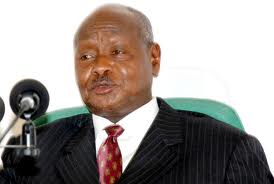 NRM Diaspora League has taken a lead in confronting and explaining the President Museveni's decision to sign the controversial bill into law and why there is no justification for withdrawing and cutting-off aid to Uganda.
According to NRM diaspora league SG Peter Mashate, the NRM UK & Ireland Chapter on Monday the 03/03/2014 met Uganda High Commissioner in London Prof. Joyce Kakuramatsi Kikafunda and briefed her over their efforts to meet and mutually address the government's critics.
He says the NRM Diaspora League has already written to the fierce critic of the Gay law in the House of Commons Hon Margot James a Conservative Party Member of Parliament for the constituency of Stourbridge seeking an appointment to correct the negative campaign being conducted from uninformed standpoint that fails to take into account mutual respect for Uganda's sovereignty and cultural values.
The NRM UK Chapter argues that the campaign to withhold Aid will directly hit and hurt the ordinary people.
Meanwhile, Uganda's High Commissioner has reportedly welcomed any efforts that improve the image of Uganda and hailed the Chapter for championing the task to engaging with critics so that they get to appreciate the appropriate mindset of the Bill.