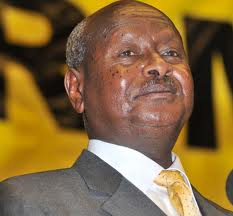 The National Resistance Movement government needs more time to deliver on its promises.
Delivering the state of the nation address this afternoon, President Yoweri Museveni has defended government's failure to achieve some of the issues raised in the previous year's address.
He said what was achieved was reasonable given the hostile environment that the gov't is operating in, citing the Daily Monitor news paper and the opposition members of parliament as the major obstacles to national development.
The president points to some of the achievements as the 5.1% GDP growth rate, inflation rate now standing at 3.6%, foreign exchange reserves currently at their highest with $3.3bn and export earnings of $4.9bn without the remittances from Ugandans in the diaspora.
President Museveni has also blamed the problem of shortage of midwives in health facilities on the continued recruitment of male midwives.
Some Members of parliament have given their views on the president's address, with some calling it a total waste of time while others hailed the president for making a commitment to ensure improved health.
They include among others; Rose Najjemba, Theodore Ssekikubo, Cadet Benjamin, Wilfred Niwagaba and Bernabas Tinkasimire.
The development partners too, have had their say.They have hailed the president's state of the nation address.
Speaking to journalists after the address Netherlands ambassador Alphons Hennekens said the most important issue was the president's commitment to fight corruption.
The ambassador says as development partners their desire is to see the funds donated put to proper use and that they reach the targeted group.