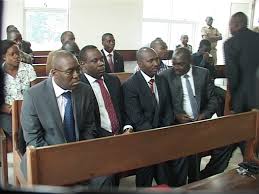 The rebel NRM MPs have suffered yet another loss.
The Constitutional Court has ruled that the four expelled NRM MPs temporarily stay out of parliament pending determination of the main petition filed by their party.
The affected MPs are Theodore Sekikubo for Lwemiyaga, Banabas Tinkasimire for Buyaga County, Wilfred Niwagaba for Ndorwa East and Kampala Central's Mohammed Nsereko.
The order issued by four out of the five judges led by Stephen Kavuma directs the speaker of parliament to temporally restrain the four MPs from sitting or participating in any parliamentary proceedings.
The four justices who agreed to the injunction are Stephen Kavuma, Richard Butera, Faith Mwonda and Augustine Nshimye, while Remmy Kasule differed.
Justice Kasule has described the ruling by his four colleagues as pre-judgmental, partial and prejudicial as the issue of evicting the MPs from parliament is the same filed in the main petition.
He argues that instead of issuing a temporary injunction the judges would have prepared to give final on the main petition.
However, the four judges have defended their decision saying that after they were expelled by their party, the MPs were sitting illegally in parliament.