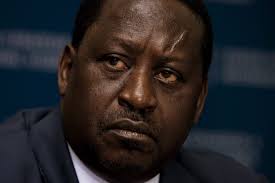 The Coalition for Reforms and Democracy (CORD) has officially filed a petition in the Supreme Court, challenging the election of Uhuru Kenyatta as President.
CORD's legal team led by the petition's lead counsel, George Oraro, former Attorney General Amos Wako, Makueni Senator-elect Mutula Kilonzo and Siaya Senator-elect James Orengo lodged the suit at the Supreme Court today.
The petition reads that there was no free or fair presidential election. Consequently no government could lawfully be formed by or from the purported declaration on 9th March 2013, of Uhuru Kenyatta and William Ruto as President-elect and Deputy President-elect respectively, by the IEBC and its chairman to the dishonor of the Kenyan people.
The three respondents in the case are the IEBC Chairman, Issack Hassan who was the returning officer for the presidential elections, the President-elect Uhuru Kenyatta and deputy president-elect William Ruto.
Orengo is confident that CORD will win the petition and promises to respect the ruling of the Supreme Court.
Judiciary Chief Registrar, Glady Sholei says the CORD petition will be heard in only two days.