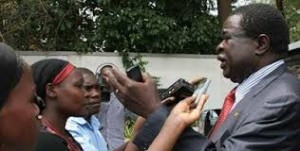 The body of the Former West Budama North MP William Oketcho is at Parliament.
It was received by deputy speaker Jacob Oulanyah.
The public is viewing the body and signing the condolence book.
Later in the day, a special session will be held in his honor.
Earlier, a requiem mass was held for him at Christ the king church where the deputy speaker Olanya described the late as a committed and hard working person that the country will miss.
He says the late was a statesman who never stopped his country even when he lost his seat his parliament.
Oketcho died of Kidney complications last week.
He served in the 8th Parliament and chaired the budget Committee.
He was also the architect of the Budget Act, which gave Parliament a powerful oversight role over how national resource are allocated and spent.
At the time of his death, he was the chairperson of National water and Sewerage Corporation.