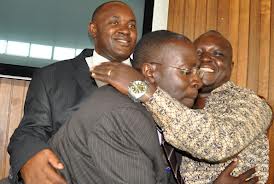 Government is to be sued for malicious prosecution. Two doctors acquitted this morning are dragging government to court.
Dr. Sylvester Onzivua, a senior pathologist at Mulago Hospital and Dr. Chris Baryomunsi, the Member of Parliament for had been charged with conspiracy to commit a felony, while the former faced separate charges of abuse of office.
The duo had been accused of conspiring to unlawfully obtain body parts of the late Nebanda for pathological tests.
Delivering her ruling, the magistrate said the doctor's actions did not constitute any criminal offence.
Her Worship Kazarwe observed that Dr. Onzivua's action had been transparent and well documented while Dr. Baryomunsi did not act in personal capacity, but on behalf of the Parliamentary Commission.
She added that the evidence adduced by the prosecution was too weak to sustain the charges.
Now the duo says it has already instructed lawyers led by David Mpanga to seek legal redress.