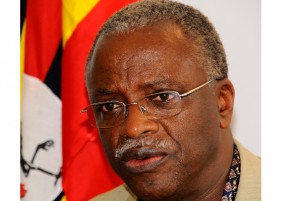 Prime Minister Amama Mbabazi has scoffed at those calling for his resignation.
This is after the NRM caucus announced that it had resolved that he be replaced by state minister without portfolio Richard Todwong as chief mobilizer at the party secretariat.
Todwong was appointed by members of the NRM caucus in a two-day meeting held at state house Entebbe.
According to one of the party members and Makindye East MP  Sam Simbwa, this is meant to relieve the party secretary general Amama Mbabazi who is allegedly busy with work in his office as Prime Minister.
He also  says this is intended to strengthen the party ahead of 2016.
However, Mbabazi has hit back saying he will continue to be the NRM secretary General until members of the delegate's conference says otherwise.
The Prime Minister's spokesperson Josephine Mayanja says Mbabazi was elected at the delegates' conference and it is the only party organ that will remove him.
In a related development, the NRM caucus is proposing amendments in the party constitution.
Among the changes they are proposing is election of a younger and more vibrant secretary general to steer the party.
Addressing journalists at parliament the caucus spokesperson Evelyn Anite said until the proposal is bought by the party's higher organ, the minister without portfolio has been appointed to help the secretary general Amama Mbabazi to mobilize for the party.
She further says the chairman was concerned about the continued lack of party cohesion with some senior CEC members involved in mobilizing support for the prime minister's presidential bid.
She cites the chairperson of the NRM women league Jackie Mbabazi and Hope Mwesigye who she says could face disciplinary committee for going against the party rules and engaging in criminal acts like bribing of votes as she elaborates.