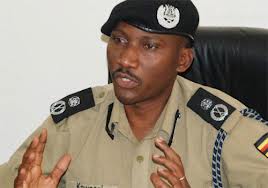 The police director of operations Andrew Felix Kaweesi has apologized to journalists over the brutality that has seen several of their colleagues' rights abused in the past few years.
This was after two journalists were assaulted yesterday by the Old Kampala Police DPC Joram Mwesigye as they covered a peaceful demonstration by a group of NRM youth on the streets of Kampala.
WBS reporter, Andrew Lwanga and several others were beaten up by while they were covering protests by the unemployed youth group.
Led by the Human Rights Network for Journalists, the scribes marched to the police headquarters in Naguru where they had intended to present a petition to the Police Chief General Kale Kayihura but were told he was not able to meet them.
Addressing the journalists, Kaweesi said the police chief had suspended the officer accused of assaulting journalists and commissioned a full investigation into the matter.
He also ordered an investigation into the scuffle that ensued at Jinja road police this morning during a peaceful demonstration by journalists.
Earlier, the Journalists announced a media blackout on the coverage of all police events following the assault.
According to the head of the Human Rights Network for Journalists Robbert Ssempala who was briefly detained at Jinja Road Police station, the ban will only be lifted when the police satisfactorily resolve the growing discontent among media practitioners in Uganda.
Meanwhile, legislators have condemned the manner in which police beat up journalists.
MPs Medard Ssegona and Matthias Mpuuga say the police has turned into an unprofessional institution, without giving due regard to human rights.
Ssegona has offered free legal services to the assaulted journalist as well as pursue prosecution of the police officer who committed the acts of brutality.
The Foundation for Human Rights Initiative too has joined other voices in condemning the attack on journalists.
In a statement issued this afternoon, the organisation's Executive Director, Dr. Livingstone Ssewanyana says the attack on journalists in the line of duty presents serious challenges on the rights on freedom of the media.
Ssewanyana says the Uganda Police force should thoroughly investigate the matter and bring to book the perpetrators of the acts.
Lwanga was this morning rushed to Nsambya hospital for treatment after he collapsed soon after meeting the police surgeon.
A meeting is now scheduled for Thursday this week between the journalists and police chief to try and mend fences.