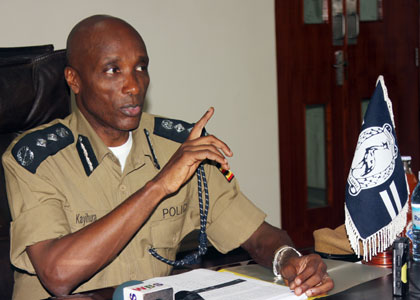 The Annual crimes report released by police indicates a reduction in number of death cases related to domestic violence.
According to the report the number of investigated cases reduced from 181 in 2011 to 154 in 2012.
However the Inspector General of Police Kale Kayihura notes that the number of unreported cases continue to be high especially those committed in privacy.
The annual crime report for 2011/2012 released this morning shows that the crime rate increased by just 1% in 2012 compared to 3.8% recorded in 2011.
Gen. Kale Kayihura says there is a reduction in the number of key crimes committed.
He cites terrorism, homicide and cases of shooting which he says have all reduced.
The report indicates that homicide cases declined by 4%, death by shooting reduced by 13%, while deaths by mob justice and domestic violence declined by 31% and 15% respectively.
Kayihura has attributed this decline to the increased public confidence in the justice system.
He also cites an increase in cases of corruption.
He however says the increase is not because there are more corruption cases but rather that there is more public vigilance on reporting the same.